B&B Tractor Garage - Dalton, GA Exmark Dealership
B&B Tractor Garage is the premier Exmark mower dealership in Northern Georgia. We carry a full line of Exmark lawnmowers, parts, and accessories. We also offer a wide variety of lawn and garden expertise to keep your lawn looking its best.
We are proud to be an authorized Exmark dealer for our customers in Dalton, GA. With wide variety of Exmark lawnmowers to choose from, and we are confident that we have a model that will meet your needs. Whether you're looking for a residential machine or a zero turn more for commercial landscaping, our expert staff will help educate you in selecting the proper mower.
We also carry a full line of Exmark parts at our dealerships and if we don't have what you need in stock, we can help you get genuine, OEM Exmark parts quickly.
We have the experience, expertise, and customer service to make sure you are completely satisfied with your purchase. Contact us today to learn more about our products and services.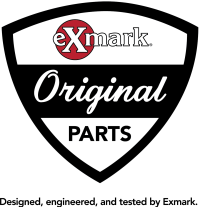 Exmark Original Parts
The best any aftermarket company can do is provide you with almost right parts for your Exmark mower. Those parts may look right, feel right, and may even seem to fit right. But when it comes down to making your Exmark machine hum like no other, only Exmark has the expertise and knowhow required to get it precisely right. Every time.
For maximum uptime. And minimum downtime.
Today, many companies can provide you with parts for your Exmark machine. Unfortunately, there are many pitfalls to using non-original parts. That's why we have a saying: GO ORIGINAL, or run the risk of not going at all.
When you need a part for your Exmark, there's only one place to go – right to the source. Exmark designs, engineers, and tests our own superior OEM parts so they're guaranteed to work in perfect harmony with your machine.
The truth is, nobody knows your Exmark machine better than the people who developed it. No aftermarket parts provider owns the original design, engineering and test requirements needed to make meaningful, original quality claims. So, if you don't use Original Exmark Parts on your mower or turf management equipment, it's not 100% an Exmark.